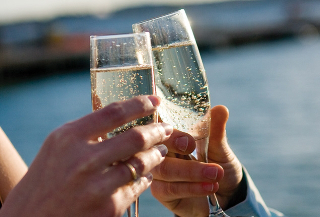 "Honeymoon Special"
Just the two of you on your own big yacht for 3 fun-filled days and 2 romantic nights. It's a one of a kind pampered yachting honeymoon and we will take care of all the details….
3 Days / 2 Nights in Fort Lauderdale – The Venice of America

Day 1:
Now you are in the Yachting Capital of the World. Please enjoy the many options available from relaxing at the dock to cruising the waterways, maybe a sunset cruise or out to dinner… Or even Horsdouvers on the Bridge with your guests, the Captain usually has some special treats. Remember the spa is waiting under the Royal Palms at The Resort just in case you want to indulge yourself later. Settle in an secure your gear as we are available to start as early or as late as you wish the next day.
Day 2:
Awake to a Continental Breakfast served in bed at your option 0700-0900 Hrs. Refresh yourself with an early swim at the beach or a little kayaking if you like. Like everyday at GYC, you are the boss – it's your choice of fishing, or hitting the beach or boutique shops along trendy Las Olas Boulevard. Enjoy an al fresco lunch on deck as you take in all that Fort Lauderdale has to offer.
Tonight, there's a multitude of choices for dinner all within steps of our docks at Coconut Bay. Again, a swim at the beach or the resort pool may be in order before dinner. As the stars begin to shine brighter, join in the night life along Ocean Boulevard in Ft. Lauderdale for a little dancing just a short stroll away along our beautiful Beach Walk. Treat yourself to a jacuzzi under the stars before retiring on board for one last night aboard.
Day 3:
We hope you enjoyed your dinner last night and we have prepared a Continental Breakfast served 0700-0800 Hrs if you still have an appetite! There's plenty of time for one last swim or some more kayaking or a stroll along the beach before a late checkout.
>
"HONEYMOON SPECIAL"
3Days/2Nights – 2 Guests
Member Discount is 30%-90% Off Charter Rate
*Expenses for fuel, food & beverages, additional crew or gratuities are not included
Customized Trips Available
Hourly - Daily - Weekly
954-614-1455